06 Feb

OckyPocky's Success In Republic Day Spoken English Contest 2021

OckyPocky's Republic Day Spoken English Contest 2021 was an immense success and saw participation from every corner of the country. It also came up as a doorway to show us the opportunities and exposure 2021 holds for all of our little superstars.

The year 2020 will forever be known for disrupting the conventional ways we provided education. The advent of technology in the world of education brought a rapid change in the opportunities around a child – no more bound by the limits of geographies & time.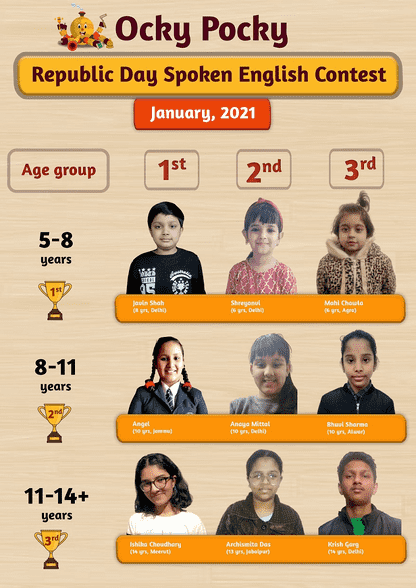 The entire team at OckyPocky is delighted to announce the success of one of its most innovative initiatives – India's 1st Online Spoken English Contest. The event concluded on the 31st of January & featured all India finalists performing LIVE from 20+ cities and safety of their homes. 
While every child was brimming with confidence & enthusiasm throughout their performance. We witnessed some outstanding performances from winners below:
Age group: (5-8)years
1st Position: Javin Shah, Delhi
2nd Position: Shreyanvi Singh, Delhi
3rd Position: Mahi Chawla, Agra
Age group: (8-11)years
1st Position: Angel, Jammu
2nd Position: Anaya Mittal, Delhi
3rd Position: Bhuvi Sharma, Alwar
Age group: (11-14+) years
1st Position: Ishika Choudhary, Lucknow
2nd Position: Archismita Das, Jabalpur
3rd Position: Krish Garg, Delhi

All the winners were awarded with prizes, certificates & accolades:
1st Position: INR 3000 OckyPocky Cash
2nd Position: INR 2000 OckyPocky Cash
3rd Position: INR 1000 OckyPocky Cash
INR 5000/- cash scholarships for top 3 winners.
After such prolific performances by young superstars from across the country, OckyPocky is inspired to launch – OckyPocky Global Art Contest Feb 2021.
P.S: Know someone who is into drawing and painting and their talent is yet to be discovered? Feel free to share this unique opportunity with them → https://ockypocky.com/OckyPockyContest