01 Feb

OckyPocky's Success With Organizing The International Rubik's Cube Championship in December 2020

OckyPocky is proud to announce massive success of India's biggest LIVE Rubik's Cube Championship in December 2020. The event was a huge success and it saw amazing kid-superstars from more than 7 countries battle it out with the cube! Due to the constraints owing to the ongoing pandemic, parents were very excited about the global exposure from their home.

Sandhya Aswin (proud mom of Aarav) says "Thank you for organizing the show really well. Everything was really smooth and comfortable. Great efforts by your team too."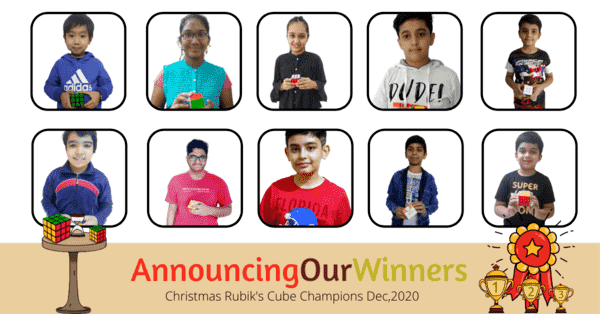 We're delighted to see parents taking an active interest in their child's education and exposure. It was amazing to see enthusiasm & sportsmanship displayed all through the Championship. 
We were also amazed to see so many people watching, supporting & cheering for the participants LIVE.
We're immensely proud of all the winners and participants of the championship. The winners by age group are below :
Age group: (7 – 10)years


1st Position: Dhruv, Mumbai – India
2nd Position: Aarav, Bengaluru – India
3rd Position: Hendrix, HongKong

Age group: (11-14)years


1st Position: Chinmay, Junagadh – India
2nd Position: Advik, Indore – India
3rd Position: Tie between – Affan(Cuttack) & Adhish(Bangalore), India
Age group: 14+ years


1st Position: Alaqmaar, Dubai –

United Arab Emirates


2nd Position: Durva, Baroda, India
3rd Position: Srinika, Hyderabad, India
The OckyPocky team firmly believes that such competitions help improve the participant's performance exponentially. When you help a child with such global opportunities, the growth becomes limitless. This value is fundamental to OckyPocky and will be seen in numerous other exciting competitions throughout the year.
Coming up is an exciting opportunity for kids in India – Our own Republic Day English Olympiad on communication skills for kids in January – read here and register for early bird discount now and prizes worth 1 lakh https://ockypocky.com/OckyPockyContest